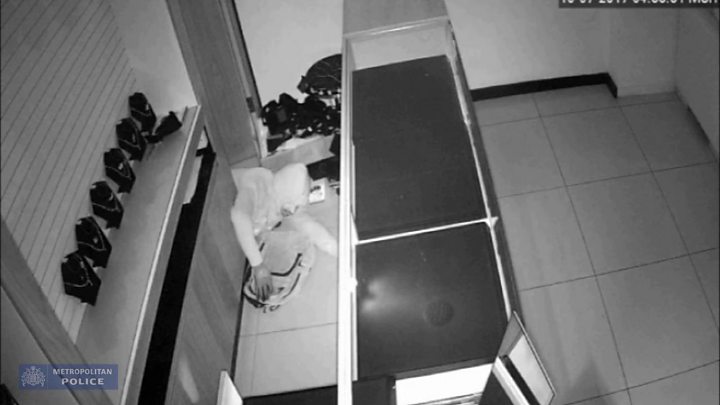 Gold, diamond necklaces and other jewels were looted in the early morning raid at Joyalukkas in Forest Gate.
The men used a sledgehammer and crowbar to make a hole at the rear of the shop and spent more than three hours inside on 10 July.
Police believe another two men acted as lookouts.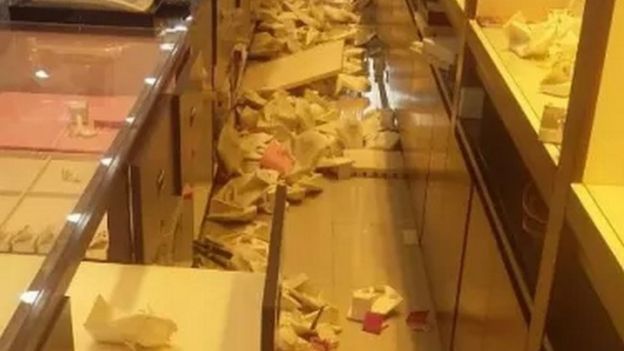 The Met Police said they were looking for a total of eight suspects in connection with the robbery.
CCTV footage released by Scotland Yard shows two men inside the shop, one who is wearing a bright pink hoodie drawn up around his face as he pulls jewellery out of drawers before stuffing it into a rucksack.
Another suspect is seen outside the jewellers wearing a black coat and the third is wearing a T-shirt and shorts.
Det Ch Insp Andy Pallett, of Newham CID, said: "This was a meticulously planned and audacious raid on a jewellery shop with £1.8m of items stolen.
"While we think it only took the suspects around 20 minutes to make the hole, it must have been noisy work and we would appeal for anyone who heard or saw anything suspicious to contact us."